A quick and easy way to find out what patient representatives across Europe think of a specific topic is the use of an online survey tool, such as Survey Monkey
Example:
The following are the results of a survey conducted among 18 participants of ECHDO. The following were the questions asked and the responses given:
Download the results ici
Question 1: Do you agree with: two levels of membership, according to activity: 1. Active and 2. Passive or associate (Active attends, participates and votes; Passive attends and participates but doesn't vote)?
Question 2: Regarding Membership Voting (Organisational, not Individual):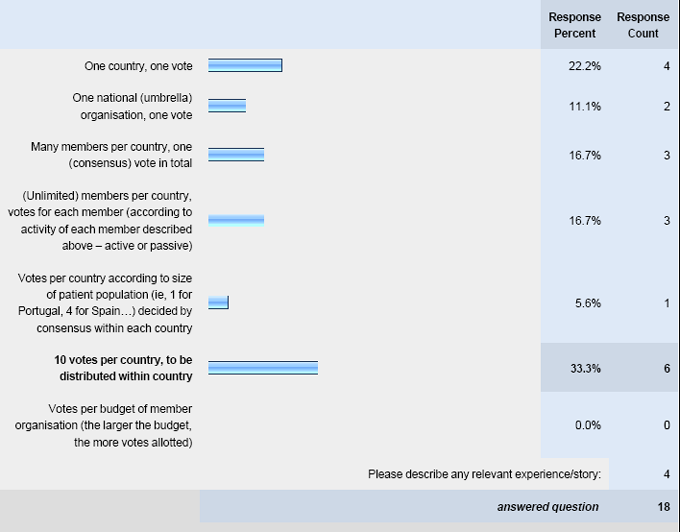 Question 3: Should Board of Directors/Executive Committee membership be limited to one per country?

Question 4: Do you agree that Board of Directors/Executive Committee members need to be insured (against legal actions to the European organization)?

Question 5: Membership fees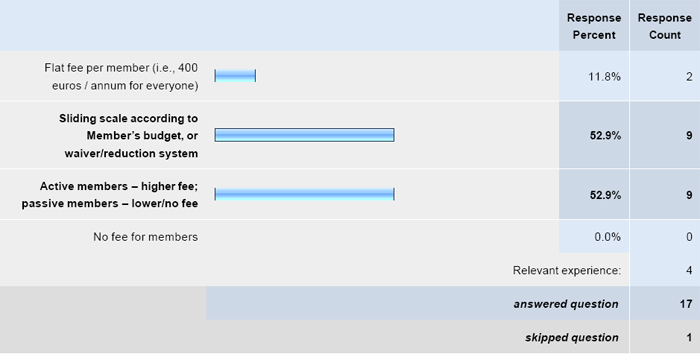 Question 6: Important factors in deciding where the central office should be

Question 7: Is the European General Assembly every year (to vote on annual budgets and approve the previous year's spending) or is it every other year?

Question 8: How much does it cost in your country to set up a not-for-profit organisation? (If there is no cost, please let us know that.)
Question 9: If the European organisation were set up in your country, could a foreign foundation (or company) contribute money legally using a tax ID number from your country?

Question 10: In your country, is there an important legal difference between an association, a federation, a network, and a foundation? Might one of them be better able to carry out European-wide work?